Resume writing tips that get job offers from a resume service pro!
Only Top-Resume-Tips.com offers resume writing tips and free resume examples by a resume service professional!
Free Online Resume Builder Tool: Use this tool to build a high quality resume in about ten minutes.
You spent days, maybe even weeks, writing that darn resume. And in the end, the response was...disappointing.
If this scenario sounds familiar, don't worry. You are definitely not alone. Even job hunters with years of experience face the same daunting task of writing their resumes and cover letters.
As a resume service professional who has written hundreds of resumes and letters that successfully obtained interviews and job offers for jobseekers, I treat resumes like what it should be: an advertisement.
Coming from a marketing communications background, I have extensive experience in writing advertisements, brochures, radio commercials and press releases for public-listed corporations as well as small and medium-sized enterprises.
So when I started helping jobseekers write their resumes, I used the same copywriting techniques that are commonly used in the advertising industry. Copywriting is the art of selling products and services using nothing but words.
Thus, I developed Top-Resume-Tips.com to be THE resume resource for smart job hunters like yourself. You'll learn to analyze and write your own resume like a professional copywriter and achieve success in your job search.
The first thing you need to do is to Bookmark This Site. This way you can repeatedly take advantage of some of the powerful techniques, tips, and strategies shown here.
We have tons of top resume writing tips and free resume examples to help you beat the competition and get that job offer.
So, let's begin.
Michael Ford
Resume Service Professional
Top Resume Builder
Over 180 easy-to-use proven resume and cover letter
templates and examples that guarantee job offers in 30 days.
TopResumeBuilder.com




Create Your Resume In 9 1/2 Minutes With the FREE "Top Resume Builder"!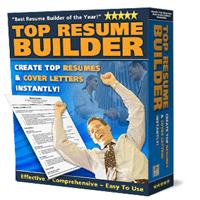 Struggling to write your resume? Worried about getting job offers? Get the FREE Top Resume Builder ($97 value) now!
Save hours writing your resume.
Save hundreds of dollars hiring a professional writer.
Over 35 proven resume templates created by a resume expert.
No software to install. All templates are in Microsoft Word format.
Immediate download so that you can start right away.
Hurry! We are offering the Top Resume Builder for . After that date, we're selling it for $49.97. So get it free now before it's too late!
Just subscribe to our free Top Career Newsletter by submitting your name and email below. And we'll send you the Top Resume Builder right away.
Note: The Top Resume Builder will be emailed to you. So please submit your actual email.
Privacy Policy: Your email address is Private and Confidential and will NOT be rented or sold to any party. You can unsubscribe at anytime. We hate spam as much as you do!